Dr Rajesh Pal is the best physiotherapist in Gurgaon with tremendous sensitivity, tact, and patience to listen to patient's problems and contribute to well being through dedication and sincere efforts. He has established track record in providing quality treatment to patients by demonstrating superior clinical excellence
His qualification includes Bachelor of physiotherapy (BPT) & Master of physiotherapy (MPT) with specialization in Orthopedics, Post graduate Diploma in ERGONOMICS (PGDHSC-ERGONOMICS) , MBA in HOSPITAL MANAGEMENT as well as many certificate and short term courses in very specialized branches of physiotherapy
Dr. Rajesh Pal Physiotherapist has above 17 years of clinical & academic experience in the field of physiotherapy, In these 17 years he has successfully treated numerous patients with variety of problems which includes almost all branches of medicine like- musculoskeletal, neurology, neurosurgery, burn , plastic surgery, pediatrics, skin, gynecology, cardio thoracic surgery, ICU ,etc
He treated HON FORMER PRIME MINISTER OF INDIA & eminent personal in and around Delhi and Gurgaon.
---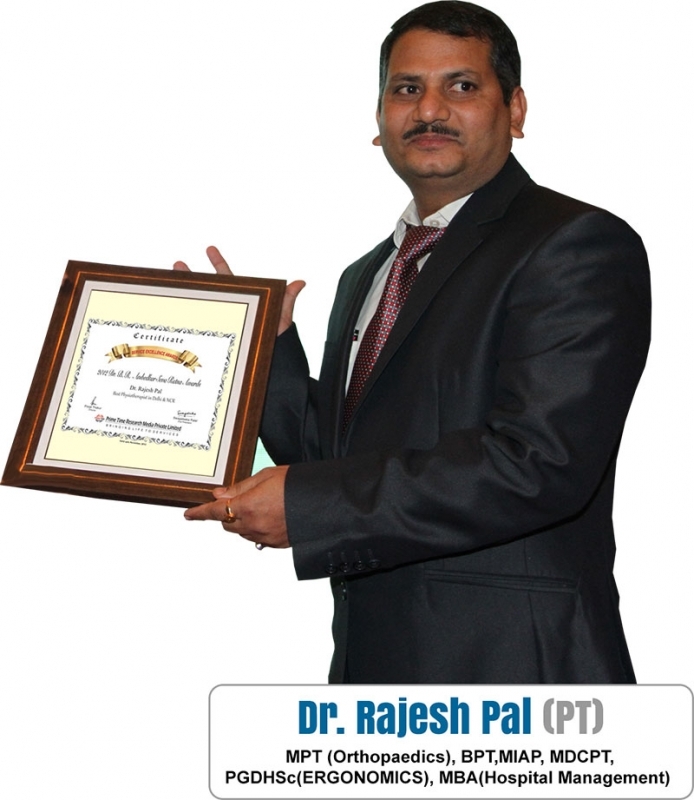 He had been honored by membership from:
Spinal Cord Injury Association Indian chapter
Indian Association of physiotherapy
Delhi council for physiotherapy
He had been appointed head examiner at CHHATARPATI SAHU JEE UNIVERSITY, KANPUR for Bachelor of physiotherapy examination
Dr Rajesh Pal has to his credit several prestigious Awards:
Recipient of MEDICAL EXCELLENCE AWARD 2014
Recipient of MEDICO PRIDE AWARD 2014 given by Indian Association of Entrepreneurs & Service Providers
Recipient of Service Excellence Award Gurgaon for BEST PHYSIOTHERAPIST by TIMES NOW in 2013
Recipient of HEALTHCARE EXCELLENCE AWARD IN 2012
Recipient of 2012: DR. B. R.AMBEDEKAR SEVA RATAN AWARD
Recipient of Service Excellence Award (DELHI, NCR) for BEST PHYSIOTHERAPIST by TIMES RESEARCH MEDIA IN 2011
Participated in several camps organized by the Blessing Institute for the detection and to provide rehabilitative serve in the remote area of Haryana.
Monitored the training programs to Angan Wadi Workers for detection and rehabilitative services to disabled children
Founder member of Spastic society of Gurgaon, a center for rehabilitation of special children
Previously he had established and headed physiotherapy department at Privat hospital & Paras hospitals at Gurgaon.
---